A home swimming pool is one of life's simple luxuries, and one you deserve. Imagine spending a relaxing Saturday with your family and friends, firing up the grille and enjoying a dip in your gleaming new pool. A custom-designed pool or jacuzzi can turn your backyard from a wasteland to a beautiful family fun center perfect for entertaining or just enjoying quiet, restful moments alone.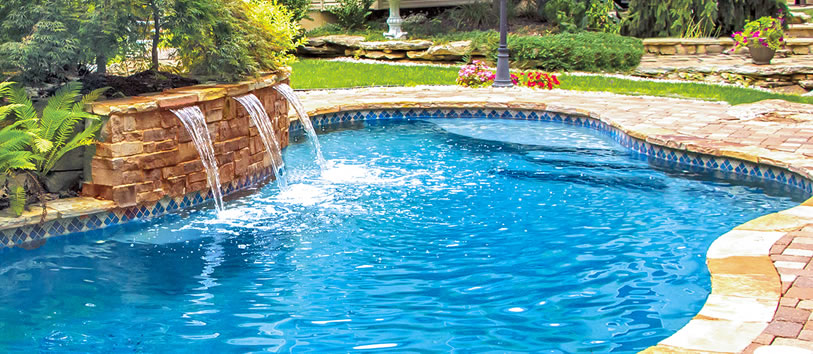 Adding a swimming pool or jacuzzi to your Massachusetts property will provide years of enjoyment for you and your family. Whether used for swimming for fun and fitness, soaking up some sun or just splashing around with the kids, a pool will pay for itself several times over by bringing up your home's value if you one day decide to sell.
A swimming pool is a big investment even if installed at a great price, and must be installed with great care. Finding a Massachusetts professional with the skills and experience necessary to get the installation job done right the first time is essential to avoid cracking or other costly repairs later. You get to lead the design process by sharing your home swimming pool vision, while leaving the backbreaking work to the professionals.
There are several options for swimming pool construction and finishing, from concrete to fiberglass and vinyl. A good swimming pool construction and repair company can sit down with you and help you choose a design you will love, at a lower cost to you than you might think.
For a swimming pool expert. Call (978) 540-5008 to receive a free swimming pool estimate from Massachusetts Handyman.
Fill out our free estimate form and start the process of making your dream home swimming pool a reality, or ask us how simple it can be to repair your current pool so you can enjoy it once again. Our design and installation experts are eager to help.
Swimming Pools in Massachusetts
Fix, Repair, Assemble or Install
Above-ground Pools
Backyard Landscaping
Concrete Pools
Custom Pool Tiling
Fiberglass Pools
Gunite Pools
Jacuzzis
Pool Decks
Pool House Construction
Pool Plumbing
Pool Refinishing
Pool Renovation
Pool Repairs
Salt Water Pools
Swimming Pool Installation
Vinyl Pools
Water Slides
Waterfalls
Swimming Pool Service Areas in Massachusetts
---
Call (978) 540-5008 to speak to the Best Massachusetts Handyman, or fill out our free estimate form.